We understand the pure excitement of creating D.I.Y. projects or the pride after successfully mending a broken personal belonging. With our D.I.Y. products, you can now complete these fun tasks using the small household sized goods we offer. Just like the products we supply into the industrial sector, we use the best technology to make these products and have thoughtfully created the packaging with functions for practical usage. ADB's D.I.Y. products include epoxy adhesive, gasket replacement adhesive, liquid gasket adhesive, super glue, and sealants for household applications.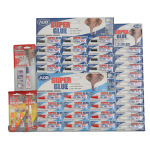 Household Adhesive and Sealant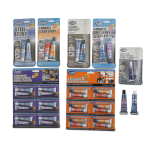 ADB Super Glue is a premium grade instant adhesive that is faster, stronger, and longer lasting than regular glues. It works on more materials than the regular super glues. Ideal applications include bonding of metal, plastic, wood, leather, glass, rubber textiles, ceramic, etc.
RTV Gasket Maker makes reliable "formed-in-place" gaskets that resist cracking, shrinking and migrating caused by thermal cycling. Hence ideal for use as replacement for gaskets, seals, gaskets dressing, cork, felt, paper, rubber and asbestos gasket. It is permanently flexible and stable at temperatures from -80°F to 650°F (-62°C to 343°C). It is also highly resistant against oil, transmission fluid, water and antifreeze. seals, gaskets dressing, cork, felt, paper, rubber and asbestos gasket.
Household Adhesive and Sealant
We provide adhesive and sealant products in small packages for household use including Contact Adhesive, a solvent based adhesive that is easy to use, cost saving and superb bonding strength; Super Nail, a contact type adhesive that will not slump on vertical surface. It has been formulated to bond to a variety of common construction materials; Kitchen & Bathroom Silicone, a versatile adhesive sealant for caulking, sealing and bonding of bathroom fixtures and tiles; Vinly Adhesive, a clear colored fast curing adhesive specially formulated for vinyl and leather repair jobs; Glass Silicone, a versatile adhesive sealant for durable, flexible and waterproof seals, around glass, tiles, rubber and most plastics.
To prepare this adhesive, 2 parts must be combined; the epoxy and the hardener mixed at a suitable ratio to set the adhesive at its best efficiency. Epoxy adhesives have high adhesion properties as well as are greatly resistant to heat and chemicals, hence its popularity in the industrial sector. Epoxy adhesives can be applied onto wood, metal, terracotta, glass, plastic, etc. Our Company distributes epoxy adhesives for both household and industrial scale applications.
ADB Butyl Tape
is a sticky ribbon sealer specially formulated for the installation for all gasketless windscreens and backlites. It offers excellent compressibility in both low and high temperatures. It is designed to maintain position while avoiding direct contact between the glass and pinch weld.
MP101 All-In-One Lube
is multi-purpose lubricant which is provides lubrication while protecting against rust and corrosion, and penetrates deeply to loosen stuck parts like nuts, bolts, valves, and etc.